Fiber Optic HDMI cables are an alternative to standard HDMI cables, using optical fiber inside the cable instead of copper. The use case for Fiber Optic HDMI cables is typically when you want to connect your device to a screen over a long distance, such as connecting a PC to a TV across a large room. Here are some important things to know about fiber optic HDMI cables:
Fiber Optic HDMI cables are made with optical fiber inside the cable, allowing them to reach further maintain high data transfer speeds over longer distances. With fiber optic HDMI cables, you can do away with HDMI repeaters as they can cover similar distances that a repeater would allow. This often means a cleaner and neater set-up. They can support 18 Gb/s speeds without signal loss and are meant for distances up to 164 ft (50 m) for 4K resolution @ 60 Hz.
Based on the principle of total internal reflection, Fiber Optic HDMI cables use strands of plastic or glass filament to transmit data as pulses of light. The light is trapped between the surfaces of the fiber optic cable through total internal reflection, which allows data to be transmitted fast and efficiently.
As earlier mentioned, Fiber Optic HDMI cables can achieve the same distance as a traditional HDMI cable with a repeater. So, Fiber Optic HDMI cables should be used on their own and not with extenders or repeaters. They must be installed in the correct direction, with the output/display label connecting to the side with the display.
A common misconception that people have is that using Fiber Optic HDMI cables means having better image quality compared to traditional high-quality copper cables. This is not necessarily true. Where they do provide an advantage, however, is in situations where a longer cable is required without signal loss or degradation.
Fiber optic HDMI cables can be more expensive than copper HDMI cables, so it's important to consider whether the longer distance and other advantages they offer are really necessary.
Benefits of Fiber Optic HDMI Cables
Longer Transmission Distance
As engineers, we know that signal strength is a perennial issue with traditional cables, particularly over long distances. Fiber optic HDMI cables significantly extend reach without signal degradation – up to 164ft (50 m) for 4K resolution @ 60 Hz!
Interference-Free
Copper HDMI cables can experience Electromagnetic Interference (EMI) and Radio Frequency Interference (RFI). Fiber optic cables transmit via light rather than electricity, making them immune to these issues, ensuring a clear, interruption-free signal.
Weight and Size
These cables are lighter and thinner than traditional copper HDMI cables because they are made with tiny optical fibers. That makes them easier to carry, install, and mask within a décor.
Resistance
Fiber optic HDMI cables have better resistance to corrosion and radiation compared to traditional HDMI cables, prolonging their lifespan and increasing reliability over time.
Drawbacks of Fiber Optic HDMI Cables
Cost
Fiber Optic HDMI cables are more expensive than traditional HDMI cables, making them less attractive for set-ups that don't require either long-distance transmission or EMI/RFI resistance.
Delicate
While you don't need to worry about corrosion, fiber optic cables are more fragile and delicate than traditional HDMI cables. If you were to bend them severely, it could damage the optical fiber, resulting in it not working at all.
Installation
Unlike traditional HDMI cables, fiber optic ones are directional. Meaning that must be installed in the correct direction. The ends are labeled 'source' and 'display' and it matters which device each end is connected to. It's really common for those not familiar to say that the cable isn't working when they just plugged it in wrongly. Frustrating, for sure.
Which is better – Fiber Optic HDMI or Traditional HDMI?
If you've been reading so far, then you'll probably already know by now that it's not a question of one type being better than the other. Instead, consider the specifics of your set-up. If you need a short cable to connect nearby devices without a large amount of electromagnetic interference, the cost-effectiveness of a traditional HDMI cable makes sense. For longer set-up in an environment where there could be potential interference, a Fiber Optic HDMI cable would be a better choice.
Top Fiber Optic HDMI Cables in the Market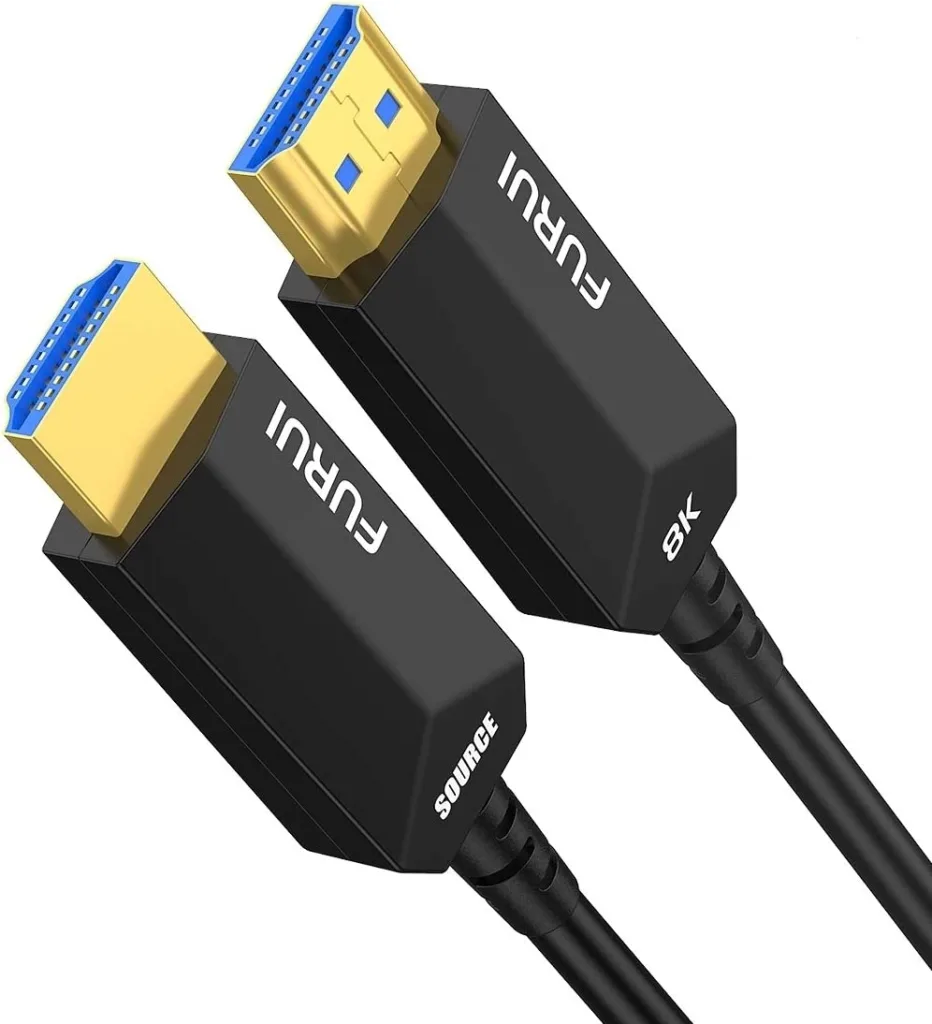 The FURUI 8K Fiber Optic HDMI Cable is a good choice if you're looking for a fiber optic HDMI cable. As a HDMI 2.1 cable, it can support speeds of up to 48Gbps. The cable is thin, flexible, and has an outer diameter of 0.189 inch (4.8mm) with a TPE Jacket.
The FURUI 8K Fiber Optic HDMI Cable supports full 8K@60Hz, 4K@60Hz/120Hz/144Hz, and up to 10K resolution. It is compatible with Dolby Atmos, Dolby Vision, HDCP 2.2 & 2.3, DTS:X, Dynamic HDR, BT.2020, eARC, ALLM, QFT, QMS, VRR, and is backward compatible with earlier HDMI versions.
Like we've mentioned in our earlier articles, your resolution and refresh rate will be limited by the weakest link in your set-up. So, for higher refresh rates like 4K@120Hz/144Hz, 8K@60Hz etc., ensure that your device and display support it.
Compatible with any device that has a standard HDMI port. Some popular devices include the Nvidia RTX 3080/3090, Xbox Series X, PS5/4, Denon AV Receiver, LG / Samsung / Sony / TV, Xbox One X, and more.
FURUI offers a lifetime warranty with free replacement or money-back guarantee if you face any issues.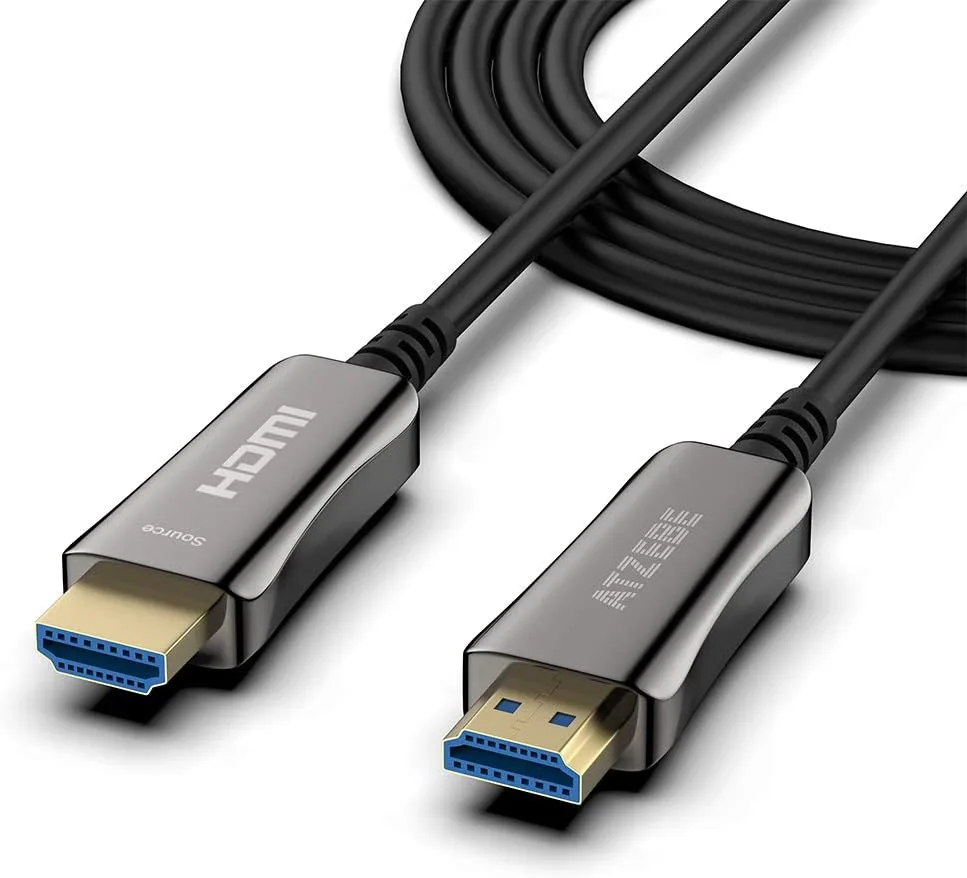 The ATZEBE HDMI 2.0 Fiber Optic Cable has a bandwidth of 18 Gbps, supporting 4K@60Hz over distances up to 15m/50ft.
Durable and flexible, it features a 24K gold-plated plug for strong conductivity and signal stability. The cable's slim design and bending radius of more than 20mm make it easy to install in tight areas.
The ATZEBE Fiber Optic HDMI Cable is compatible with a wide range of devices, including 4K Blu-ray players, smart 3D, media PC, Apple TV, PS4, PS3, Xbox One, Xbox One S, Roku Ultra, and laptops. It also supports eARC making it a good choice for home theatre set-ups.
The product comes with a two-year unconditional, hassle-free warranty. If you encounter any quality issues, you can get a full refund or a free replacement.

Our final choice is the Monoprice SlimRun AV HDR High Speed Cable. It uses optical fiber for high-speed signal transmission, ensuring reliable data transfer without electromagnetic or RF interference.
The SlimRun AV HDR High Speed Cable is a HDMI 2.0 cable with a bandwidth of 18 Gbps. This means that it is capable of supporting 4K@60Hz HDR video up to 330 feet (100 meters). It supports High Dynamic Range (HDR) video, offering a higher contrast ratio for a wider and richer range of colors.
One of the standout features of the SlimRun AV HDR is its thin and soft design. Made with flexible, polymer optical fibers, the cable is more resilient to damage and abuse. It is available in various lengths, including 30, 50, 75, 100, 150, 200, and 330 feet.
If there is a drawback to this excellent cable, it is that it doesn't support ARC for audio return. If you're setting up your home theatre, this is something to keep in mind.
---
Thanks for stopping by and reading this article. There are a couple of links to products and we earn a commission from them if you choose to buy. It won't cost you any extra but it definitely helps to keep the site going. Hope to see you again, soon.