Looking to charge or sync your devices with a USB-C cable but don't want a messy cable situation? Then retractable USB-C cables might be the perfect solution for you. Retractable USB-C cables allow you to adjust the length of the cable by pulling on one or both ends.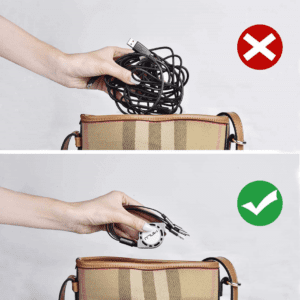 Retractable cables will significantly reduce the clutter by eliminating tangled wires. Whether it's for travel or having a neat bag, desk or car, they are the perfect solution if you want to keep things tidy.
When comparing retractable USB-C cables, focus on their overall quality, durability, compatibility, speed, and price. Some retractable USB C cables can even support fast charging and data transfer, making them more efficient and versatile. We've compiled a list of some really good retractable USB-C cables that are worth your consideration.
Retractable vs Coiled USB-C Cables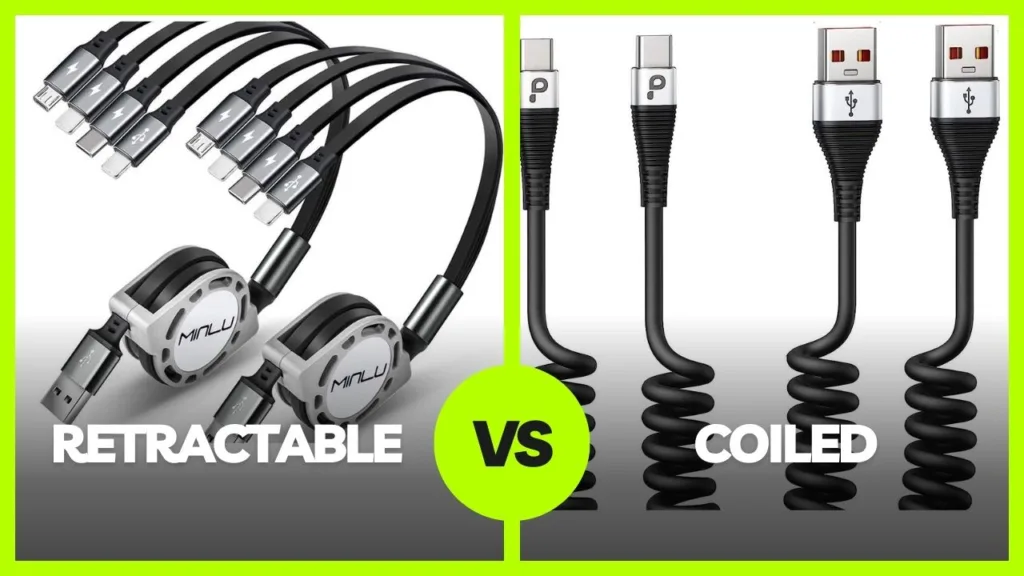 There's another type of USB-C cable that will help keep things neat and tidy and that's the coiled USB-C cable. So, what's the difference between these two types of cables? Well, with coiled USB-C cables, you typically tug only on one end of the cable to extend it. Also, coiled cables retract to their original length as much as possible without you tugging them.
On the other hand, retractable cables allow you to tug on both ends to extend them. Also, once you have extended the length of the cable to what you need, the cable will stay at that length until you tug it again.
We recommend using a retractable USB-C cables when your devices are relatively stable. This would be like your travel bag or keeping your desk and home tidy. On the other hand, coiled USB-C cables would be more suitable when you need to move your devices while they're plugged in, like while driving for example.
Best Retractable USB C Cables: Our Top Picks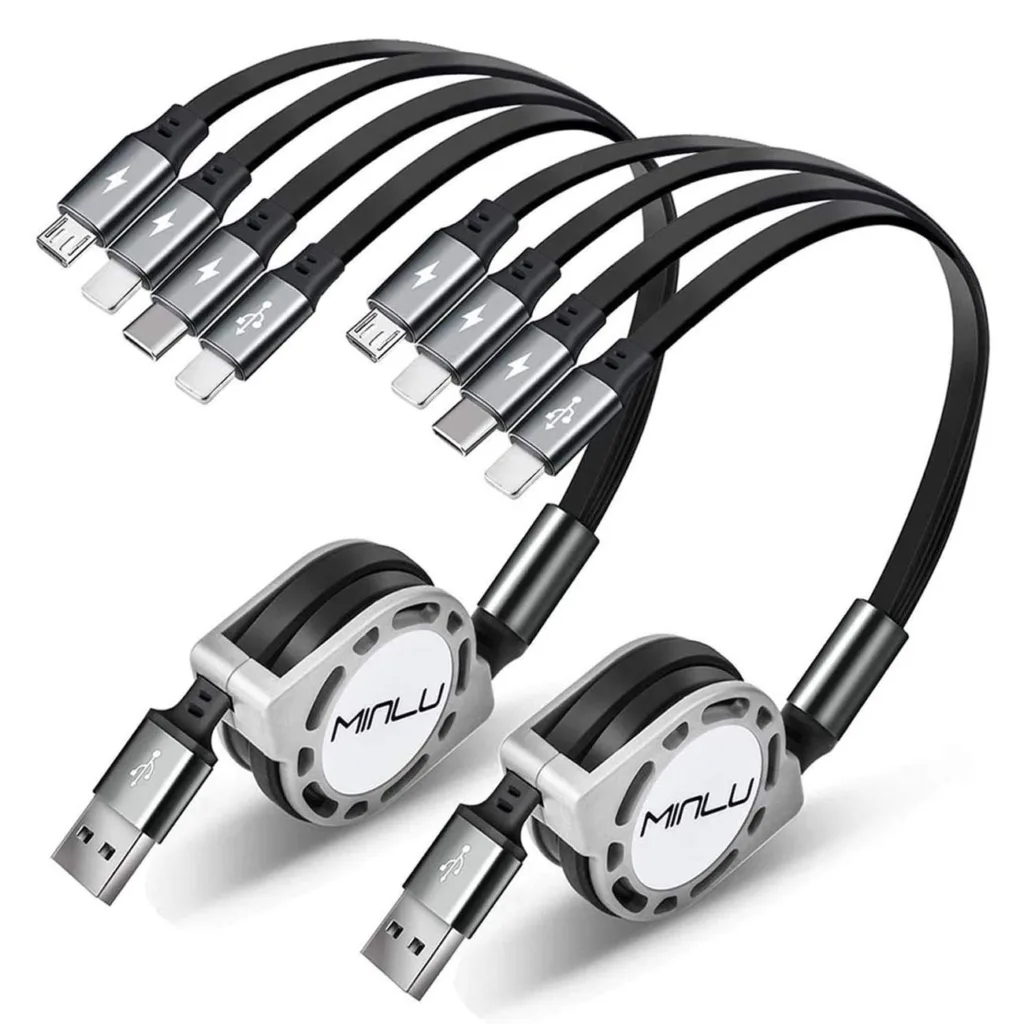 Tired of having to deal with multiple charging cables for your various devices? Then, something like the MINLU 4-in-1 retractable charging cable might be just what you need! Here's what makes this cable so interesting:
Charge Almost Any Device:
With its built-in DUAL Phone connectors, USB-C, and Micro-USB connectors, this cable can charge any of your devices. Supported devices include the iPhone, iPad, Samsung Galaxy, Huawei, HTC, and other Android devices.
It's really a life changer to be able to carry around so many different cables in a neat way.
Fast Charging and Syncing:
Experience lightning-fast charging with the MINLU 4-in-1 cable. It boasts a maximum total output current of up to 4.0A which is faster than most other 4-in-1 cables on the market today. For reference, the iOS connector supports 2.4A fast charging.
The thicker copper core wire inside the cable allows for faster and more stable charging, charging your devices 35% faster than ordinary multi cables.
Not only does it charge quickly, but it also supports data transfer on the iOS interface. The aluminium shielding ensures a stable and reliable connection for syncing your devices.
Compact and Durable:
The cable's retractable design makes it incredibly convenient to carry around. With a maximum length of 4 feet (1.2 meters), it is perfect for use at home, in the office, in the car, or while traveling.
The MINLU cable is designed to withstand over 12,000 bends, ensuring that it will last at least a couple of years of charging.
Warranty and Quality Assurance:
MINLU offers a 12-month free warranty support for the cable. Given how cheap the cables are, this is definitely more than sufficient and you can trust the quality and reliability of the product.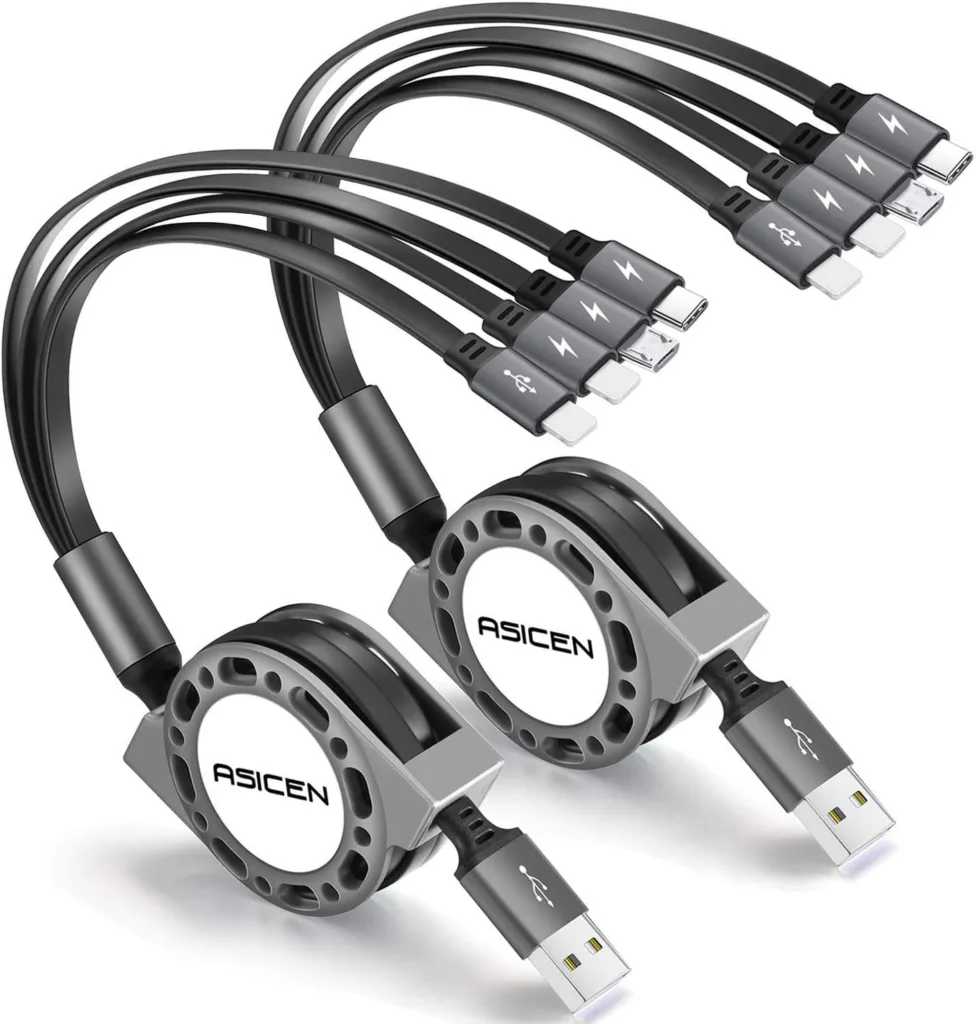 Another retractable cable that's designed to make your life easier is the ASICEN 4-in-1 retractable multi charging cable. Here's what we love about it:
Versatile Charging:
Its innovative 4-in-1 design allows you to charge up to four devices simultaneously. The ASICEN 4-in-1 cable features two Lightning connectors, a Micro-USB connector, and a USB-C connector, making it compatible with virtually all modern smartphones and tablets.
Like the MINLU cable above, this means no more having to carry multiple cables around. This one cable has got you covered for all your charging needs.
Fast Charging and Syncing:
The ASICEN 4-in-1 cable supports a maximum charging speed of up to 4A, with the iOS-port supporting 2.4A and the USB-C port supporting 3.0A.
Not only does it charge quickly, but it also supports data transfer at a speed of 480 Mbps for the Lightning connector. Sync your devices with ease and efficiency.
Convenient and Adjustable Length:
The cable extends up to 5ft (1.5m), providing optimal reach for charging in various common settings, including home, office, car, and more. Adjust the length according to your needs.
Super Compatibility:
We mentioned this earlier but with the 4 different types of connectors, the ASICEN 4-in-1 cable is compatible with a wide range of devices including, the iPhone 13 Pro Max, 12, 11, Xs Max, Xs, Xr, X, 8, 8 Plus, 7, 7 Plus, 6s, 6 Plus, 5, 5s, 5c, SE, iPad, Samsung Galaxy, Moto, Blackberry, Nokia, LG, Google Pixel, HTC, Huawei, OnePlus, Xiaomi, Sony, PS4/5, and more.
One thing we love about it is that it covers both Android and iOS systems. Imagine charging both your iPhone and Android phone at the same time with one cable. What a game changer!
Warranty and Customer Service:
The ASICEN 4-in-1 retractable multi charging cable comes with a 12-month warranty. More than enough given the low price in our opinion.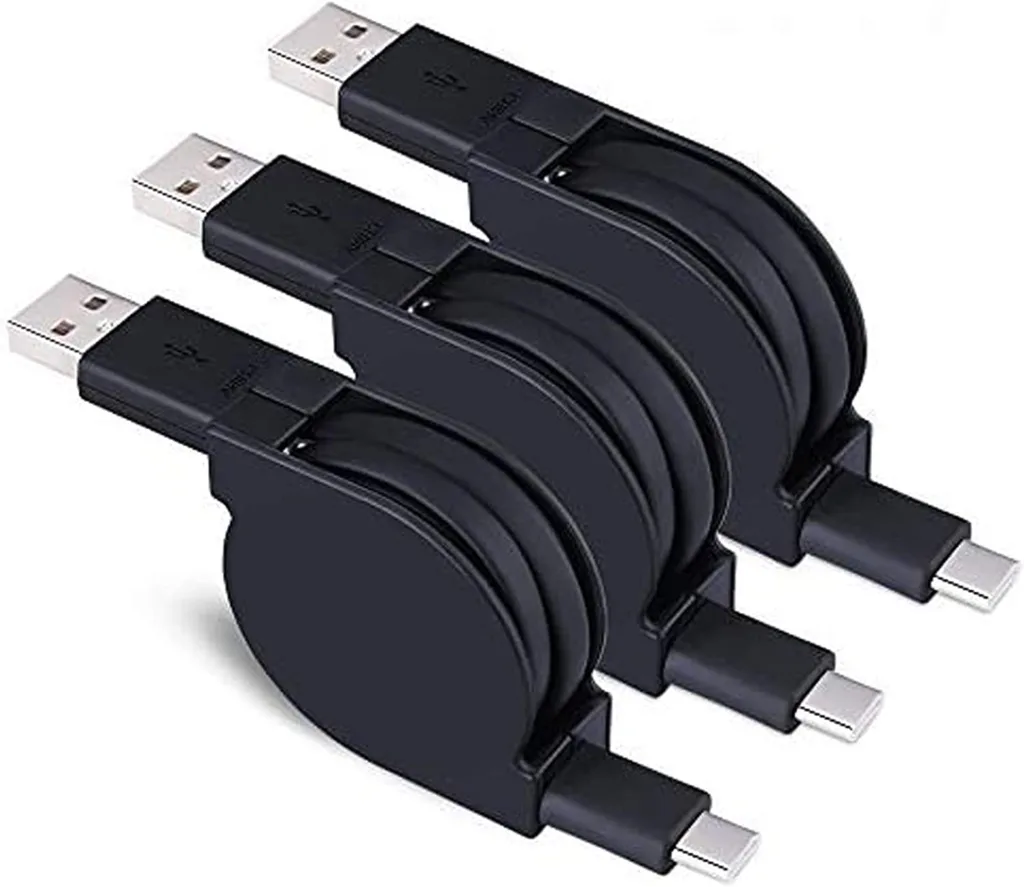 The Sicodo Retractable USB Type C Cable is a little more basic compared to the two cables above in that it only has one connector. Having said that, it is still a high-quality cable that's designed for convenience.
Durable Construction:
With a premium flexible rubber outer layer that provides protection against wear and tear, this cable is built to last. On the inside, it has four inner cores and a total of 60 copper cores, ensuring stability, rapid charging, and long-lasting performance. The connectors are made of aluminium alloy, increasing the cable's lifespan.
Tangle-Free Retractable Design:
The Sicodo Retractable USB Type C Cable can be adjusted up to 3.3 feet (1 meter) by simply pulling on both ends. It easily unwinds to the ideal length and can be rewound by pulling the ends again. The cable is housed in a circular shell, preventing knots and tangles.
Fast Data Sync & Charging:
Enjoy lightning-fast data transfer and charging speeds. With SuperSpeed transfer and sync speeds of up to 480Mbps, you can quickly transfer files and sync your devices. The Sicodo Retractable USB Type C Cable supports up to 5V/1.8A safe charging.
Wide Compatibility:
Compatible with many devices, including popular ones like Samsung Galaxy smartphones (S22 Ultra, S22, S21+, S21 FE, S21, S20 FE, S20, S20+, S10, S9, S8 Plus, Z Flip, Z Fold, Note 20 Ultra, Note 20, Note 10, Note 9, Note 8, and more).
It also works with Google Pixel devices (Pixel 7, 7 Pro, 6, 6A, 6 Pro, 5, 5A, 5XL, 4, 4a, 4XL), OnePlus 3, Lumia 950, 950XL, Nexus 5x, 6P, MacBook 2016, Elite x3, Axon 7 Max, M5 Plus, S8, Chromebook, Z9 Max, Elite V20, HUAWEI P9, and many more Type-C devices.
Wrapping Things Up
Retractable USB C cables can make your life easier and more organized. Not all cables are the same, with differences in length, number and type of connectors as well as data transfer support being some ways in which they differ.
The cables above are all highly rated and one of them should be able to meet your needs. Happy shopping and in full disclosure, there are some affiliate links in the product descriptions above. They will not cost you any extra to purchase using them.